INFORMATIVE WORKSHOPS
Schedule subject to change.
SATURDAY SCHEDULE
The Littoral Myth: Dismantling a Coastal Metaphor   11:00am (Copper/Maize/Sage)
Marc Doty, the undisputed king of YouTube synthesizer videos presents an exploration of the history how Buchla and Moog realized the modern synthesizer for Electronic Music, and how that realization differs from portrayals in current popular synthesizer culture.
Sampling, Re-Sampling, and Generative Sequences with Circuit Rhythm & Tracks   1:00pm (Copper/Maize/Sage)
Novation Technology Evangelist, Enrique Martinez, will demonstrate all the creative and expressive features of the newest members of Novation's groovebox family; Circuit Tracks and Circuit Rhythm. He'll take you through the key differences between the two, and how using them together provides you with a production set up comprising a groove box centerpiece that can be the mastermind of any creative session, live or in the studio, and a sampling powerhouse that can transform sounds into magic.
Presenting Electronic Sound Naturally  3:00pm (Copper/Maize/Sage)
Jon Sonnenberg combines fundamentals of acoustics and psychoacoustics with synthesized and sampled sounds exploring binaural theory and different methods for combining and mixing sound.
SUNDAY SCHEDULE
Additive Synthesis with Synergy  11:00am (Copper/Maize/Sage)
Fred Becker, a Synergy user since the 80s who has recorded dozens of albums with the instrument, gives an overview of additive synthesis, its relationship with the DK Synergy, and how it is now available to all of us for free as open-source software.
Lecture Luncheon  1:00pm (Sapphire Pavilion)
Have lunch with all of our lecturers and further interrogate them about their ideas! This is an add-on option available during check-in at the event. Pricing TBD.
Simplifying Complexity: Live Rig Breakdown  3:00pm (Copper/Maize/Sage)
Suit & Tie Guy thinks he's built the most advanced touring improvisational electronic music rig in the world that fits in a Chevy Suburban, and will go over it bit by bit from plywood to Dante.
BUILD WORKSHOPS - Saturday and Sunday
Click images to learn more about each workshop and how to reserve your participation.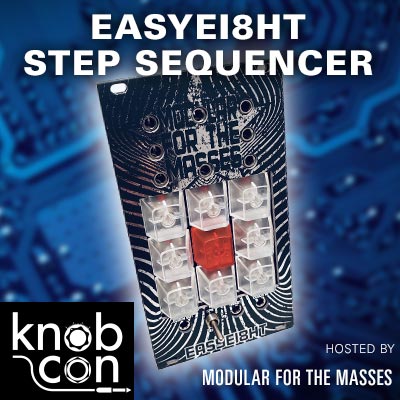 Build a step sequencer!
3-4 Hours (Intermediate)
Modular for the Masses will guide you through the process of building an EasyEi8ht eurorack trigger sequncer module. Note: this workshop requires previous soldering experience, it is not a 'learn to solder' session.