Details

Created: 15 August 2014

INFORMATIVE WORKSHOPS
SATURDAY SCHEDULE
The Basics of Synthesis 11:00am
Marc Doty, the undisputed king of YouTube synthesiser videos, provides as comprehensive a primer about synthesis which could be reasonably expected to fit in ninety minutes.
Random Applications in Electronic Music 1:00pm
Jon Sonnenberg demonstrates the various ways that randomness and probability can be harnessed in electronic music production and performance.
Michael Boddicker: Ask Me Anything 3:00pm
Mr. Boddicker has been a session musician and film composer for over four decades, working on countless recordings you've certainly heard from Michael Jackson to No Doubt. Moderated by Suit & Tie Guy.
Whiskey Tasting: A Primer 5:00pm
Winston Edwards of Texas-based Balcones Distilling gives a crash course in how to taste whiskey in a critical environment. Must be 21 to participate.
SUNDAY SCHEDULE
Harald Bode: Innovator Unsung 11:00am
Marc Doty presents an exploration of one of the least-known yet most-relevant inventors in the field of electronic music technology. You won't believe how much this guy impacted your life.
A History of Reverberation in Recorded Music 1:00pm
William Beith maps out how reverberation developed in recorded music in the twentieth century and describes the mechanics behind the ambience. He is Chicagoland's very own plate reverb craftsman, having built plates for many facilities including Van Halen's 5150 Studios.
Tom Oberheim: Ask Me Anything 2:30pm
The legend opens himself up to your questions. Maybe you'd like to know "why paddles?" or "Why eight voices instead of seven?" Here's your chance. Moderated by Suit & Tie Guy.
BBoy Tech Report LIVE 4:00pm
Corry Banks takes to the digital airwaves for a live broadcast of his beloved music production podcast.
BUILD WORKSHOPS - Saturday and Sunday
Click images to learn more about each workshop and how to reserve your participation.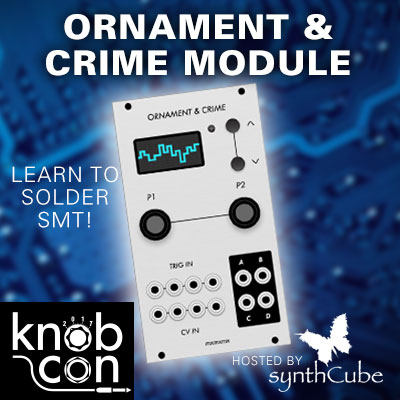 Learn to solder SMT kits!
2 2-Hour Sessions (intermediate)
Build an Ornament & Crime eurorack module and learn to solder SMT. Raph Wlodarczyk (Altitude909) will give a brief demonstration for hand soldering surface mount components prior to the build workshop.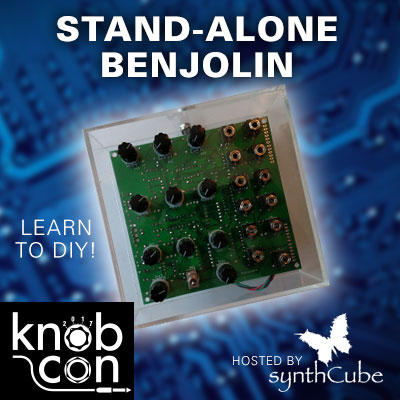 Build a Benjolin!
2 2-Hour Sessions (intermediate)
Pete Hartman of Frogleg Synthesis will guide you through the process of assembling the Benjolin Stand-Alone Synth. This is a great entry into synthesizer DIY.