SATURDAY SCHEDULE
Synthesis 101   11:00am (Maize/Sage)
No matter how experienced you are with analogue synthesis, you're sure to benefit from Michael Boddicker's approach to the fundamentals of electronic sound.
Novation Peak: A Synth for the Modern Music Maker   12:00pm (Copper)
Novation Technology Evangelist Enrique Martinez will talk through the features and technology that define Peak: an 8 voice polyphonic synthesizer. Peak has the immense flexibility for sound design you can find on a digital synthesizer, while retaining the warmth and nuance of an analog synthesizer.
Wave Replacement Synthesis   1:00pm (Maize/Sage)
Jon Sonnenberg demonstrates the fundamentals of chaining and wave replacement synthesis - a form of analog synthesis where segments of waveforms are used to create a composite waveform using standard analog synthesizer modules and concepts.
Conceptual Models for Modular Video Synthesis   2:00pm (Copper)
Lars Larsen (LZX Industries) offers a historical primer of modular video synth systems (Sandin IP, EMS Spectre, broadcast switchers, etc) and the audio modulars they were inspired by, including discussion on how LZX has tackled the same design challenges, inevitably switching the conceptual model to video rate waveshaping as a primary technique.
Hammond Organ: What's it all about?   3:00pm (Maize/Sage)
Join Ray Gerlich (Hammond USA technical department manager) and Suit & Tie Guy for a brief history of America's oldest electronic music instrument company and how their signature instrument functions.
Responsive Sequencing   4:00pm (Copper)
Matt Ward and Phin Head (dBs Music) outline methods they've derived to create patches whose accompanying voices respond and re-compose in real time to performance changes.
The Littoral Myth: Dismantling a Coastal Metaphor   5:00pm (Maize/Sage)
Marc Doty, the undisputed king of YouTube synthesizer videos, presents an exploration of the history how Buchla and Moog realized the modern synthesizer for Electronic Music, and how that realization differs from portrayals in current popular synthesizer culture.
SUNDAY SCHEDULE
Modular Synthesis: Patch, Tweak, & Share   11:00am (Maize/Sage)
Chris Meyer and Kim Bjørn have just finished the first new book on modular synthesis in decades: Patch & Tweak. Chris will give the inside scoop on the book, focusing on the universal patch language they evolved from previously-abandoned attempts in the 60s and 70s.
Modular for the Masses   12:00pm (Copper)
Yes, you too can build a sophisticated, radically personalized synthesizer with old pallets, paper bags and tin cans. Let your imagination — not your budget — be your limitation. Hosted by Juanito Moore (@juanitohm).
Dr. Gilbert Trythall: Ask Me Anything   1:00pm (Maize/Sage)
From country Moog records to electronic music textbooks, music educator, author, musician, and Knobcon guest of honor Gil Trythall answers your questions. Moderated by Suit & Tie Guy.
Surfin Kangaroo MIDI-controlled Panning   2:00pm (Copper)
Wolfgang Michalowicz presents and discusses an expandable MIDI-controlled panning system for post-production and installation applications. Marsupial surfboards, VCAs, and MIDI ... you're not going to want to miss this!
Achieving Spacial Consistency in Track Placement   3:00pm (Maize/Sage)
William Beith, Chicago's very own plate reverb craftsman, will help you remove the mud from your mixes by demonstrating how to focus on the relationship between electronic music tracks and creating an unified acoustic environment for them.
Premiering at Knobcon
Showing throughout the weekend between workshops in both lecture halls.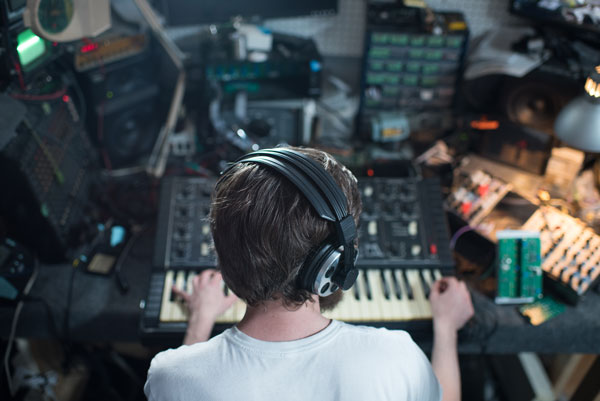 Photo Credit: Alex Nirta (@alexnirta)
Synthesize - A short film about our connection to living and breathing synthesizers. (synthesizefilm.com)
Synthesize is a fictional story about a Ukrainian musician who travels to Canada to meet the one repairman she believes can resurrect her beloved father's synthesizer, a Polivoks.